Vesper WatchMate 850 Class B Stand-Alone AIS Transponder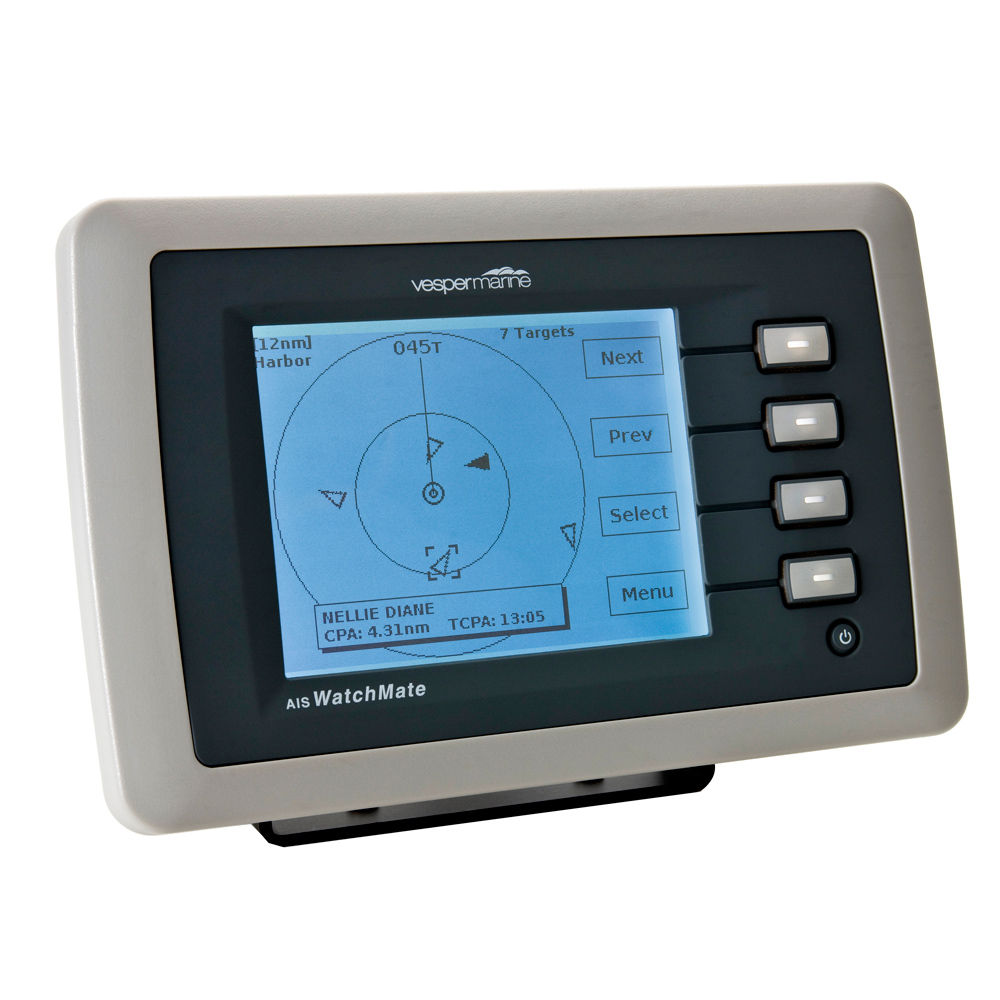 **As the FCC requires all units sold in the US to be programmed by a qualified technician. Please submit the form below for programming at time of purchase. A copy of the MMSI Registration or FCC Ship Station License is required along with the vessel master or owner's signature on the completed programming form. **
WatchMate 850 Class B Stand-Alone AIS Transponder
The Vesper Marine WatchMate 850, a fully standalone transponder with a 5" sunlight viewable screen is easy to use and loaded with features.
Engineered for ease of install and use, yet packed with comprehensive functionality, the WatchMate 850 is perfect when you want AIS that is robust, reliable and intuitive.
The built-in GPS antenna eliminates the need for another GPS antenna in most installations allowing you to just connect power, plug in a VHF antenna and your complete AIS system is installed. Alternately, share an existing connection to an antenna using our unique AIS splitter with 'gain not loss', or connect via NMEA 0183 or USB to show AIS data on your existing chart plotter or computer.
The unique target filtering function reduces clutter in busy locations by taking advantage of a collision avoidance display option which shows only those vessels on a collision course along with a graphical view of their crossing situation.
Sophisticated alarm management eliminates false collision warning alarms that plague chart plotters and other AIS displays.
Super-low power consumption allows you to leave the WatchMate 850 switched on at all times.

The high resolution backlit LCD screen is so intuitive that most users can operate "out of the box" without reading the manual. Large, backlit buttons make operation easy and fast

Complete Class B AIS Transponder
The WatchMate 850 is a Class B AIS transponder with a two channel parallel receiver and transmitter. It transmits your vessel position and details and receives the same kind of information from other vessels with AIS transponders.

The AIS data is sent every few seconds and includes information such as course, speed, latitude, longitude, and heading. Static information about the vessel is sent every few minutes and includes the name, type of vessel, length, beam, draft, etc.
Safety Features
WatchMate 850 has powerful safety features that help ensure the safety of your vessel and crew. Its safety features are similar to a smartAIS transponder but it doesn't have WiFi.
The WatchMate 850 provides:
Safety Underway. Continuously determine crossing situations, receive collision alarms with full vessel information for critical action
Safety at Anchor. Sleep soundly, knowing you'll be alerted if your anchor is dragging
Safety for your Crew. Be alerted when your crew activate an AIS MOB device and see their current location for easy retrieval
It means you can enjoy your time on the water, knowing your WatchMate 850 is always keeping watch in the background and is ready to alert you the moment it detects a hazard or unwanted event
Safety Underway – Collision Avoidance
Graphical Plot Shows Crossing Situations - Shows the relative position of a target vs. your vessel at the closest point of approach. This provides a graphical view of the crossing situation and clearly indicates whether a target will pass ahead or behind.
CPA and TCPA - Computes the closest point of approach (CPA) and time until CPA (TCPA). Alarms may be based on these and other factors.
Bearing and Range - Computes the bearing and range to each vessel. Bearing can be displayed in magnetic to facilitate easy visual identification using your compass and binoculars. Bearings can alternatively be displayed in true or relative to your vessel's heading.
Prioritization - Vessels and alarms are presented in order of priority.
Intelligent Filtering - In crowded operating areas, the WatchMate 850 Transponder eliminates clutter by filtering out vessels with no collision risk.
Identify your "fleet" - Targets marked as members of your fleet are displayed with a special icon. Use this to indicate your friends or vessels you commonly work with.
CPA alarm - Triggers an alarm if a vessel will come too close.
Guard alarm - Sounds the alarm if any vessel comes within the specified range. Both CPA alarms and guard alarms may be used together for collision avoidance.
Increased Safety - Your safety is increased when offshore or in busy traffic areas.
Safety at night - When night falls or the weather is bad it is often difficult to see other vessel's lights or determine their direction. The WatchMate shows immediately which way the vessel is moving and will even plot the crossing situation.
Positive Identification - You'll have each vessel's name and call sign and others using AIS will also have yours. If you wish to call another vessel you will be able to ensure you are talking to the correct vessel. This is very important when operating in busy areas or in bad weather when visibility is reduced.
Safety at Anchor – Anchor Watch
The anchor watch enables you to mark where you dropped anchor and sounds an alarm if your vessel moves outside an adjustable circle. It provides a helpful visual indication of where within your anchor circle the boat is located along with distance and bearing to the anchor point.
Unlike any other product, when you have a heading input our anchor watch automatically corrects for the location of your GPS antenna on-board. This eliminates cumulative position errors and makes the WatchMate 850 the most accurate and useful anchor watch available.
Safety for your Crew - Man Overboard (MOB) alarm
The perfect companion for AIS Search and Rescue and Man Over Board devices, including the latest models. Sounds the alarm whenever an AIS-SART or AIS-MOB is triggered. Clearly identifies them on the display and provides continuous position updates as well as bearing and range to the SART or MOB
Integrated GPS Antenna
Includes a built-in GPS antenna that provides GPS data to the integrated 50 channel GPS receiver. This internal antenna allows for simple installation. However, if needed, an external GPS antenna connection is provided and an optional external antenna is available.
For best performance, the built-in GPS antenna requires a clear and unobstructed view of the sky. It usually works well when installed in a cockpit, under a non-metallic dodger or under a fiberglass hard-top. However, if you are mounting the WatchMate 850 transponder in a location which does not provide adequate GPS signal coverage (eg. near or obstructed by metal objects or "down below" at a nav station), we recommend using our external GPS antenna.
Direct Selective Calling (DSC)
You can use your WatchMate 850 to initiate an individual DSC call to any vessel displayed on your screen. This feature makes it easy to message nearby boats, requesting them to switch to a specific channel for a VHF call, without having to enter the other vessel's MMSI number manually into your VHF radio.
The DSC feature works with any VHF radio that accepts the NMEA-0183 DSC sentence.
Features:
Sunlight Viewable 5" display: Uncluttered easy to read display shows all available AIS data
Large backlit LCD: Adjustable daylight viewable backlit 125mm (5") LCD
Easy to use: Four buttons control all features. Each button is clearly labeled on-screen. Buttons are backlit for night time use and illumination brightness is controllable. Each setting has on-screen help.
Target Plot: Provides a radar-like display of all vessels within the selected range. The display can be oriented north-up or heading-up so it's very easy and natural to interpret. Dangerous and lost targets are readily identified.
Safety messages: Displays received AIS Broadcast Safety Messages. These messages may contain important safety, navigation, weather, or shipping information
Aids to navigation: Full support for AIS aids to navigation including off-position and virtual aid indicators
Meteorological and hydrographic display: Displays real-time wind, current, tidal and much more in areas where this information is broadcast
GPS receiver: Displays built-in GPS satellite status and navigation data such as your position, heading, course and speed
Firmware Updates: When you buy a WatchMate 850, you get not just a product, but an extendable AIS platform. Designed to be compatible with a continuous stream of feature updates, you can update your WatchMate 850 with the latest firmware via USB and your computer
Silent Mode: Allows WatchMate 850 Transponder to be put in Silent Mode. When in this mode, the AIS receivers and GPS continue to operate normally and all alarms and other features, including the Anchor Watch, are available. The only change is that all transmissions are inhibited. Perfect for those times when you want privacy.
VHF "in use" Indicator: Unique VHF "in use" indicator (When used with Vesper Marine's VHF splitter)
Self-Diagnosis: Self-diagnosis to provide warnings if AIS, GPS or antenna are not functioning
External alarm trigger: In addition to the internal alarm, an external buzzer, alarm, or signal light can be interfaced with the WatchMate 850 without requiring any additional relays (max 150mA).

WARNING: This product can expose you to chemicals which are known to the State of California to cause cancer, birth defects or other reproductive harm. For more information go to P65Warnings.ca.gov.
Over 300 Brands at Your Fingertips
We have great relationships with some of the most respected and reliable brands in the business and we are here to pass on the benefits of those relationships to you, the client. With CWR, you can be assured that our customer service team is providing the best, most accurate, and most up-to-date information about your products.
Same Day Shipping
Place your order before 4pm and it will ship the same day! Not many wholesalers can offer this kind of speedy delivery at such an affordable price. But at CWR we do not believe you should have to choose between speed and affordability.
Become a CWR dealer and get:
instant access

to our dealers-only website

Wholesale pricing from over 300 brands

No minimum order

Flat rate shipping as low as $7.95

Free FTP and website integration
BECOME A DEALER